June 17, 2010
TRON: LEGACY is a 3D action-packed adventure set in a digital world unlike anything captured on the big screen. Sam Flynn (Garrett Hedlund), a rebellious 27-year-old, is haunted by the mysterious disappearance of his father Kevin Flynn (Oscar®- and Golden Globe®-winner Jeff Bridges), a man once known as the world's leading video-game developer. Read more about TRON Evolution Release Date...
June 15, 2010
TRON: Evolution Shines at E3. At E3 in Los Angeles gamers were treated to previews of TRON: Evolution across several platforms hitting shelves this holiday season. Disney Interactive Studios (DIS) showed the latest progress on its Xbox 360 and Playstation 3 (PS3) title, but also thrilled fans with a look at TRON: Evolution -- Battle Grids on the Nintendo Wii. The recently announced family-focused title offers fast, fun single and multiplayer gameplay design with twitchy, highly reactive controls. The handheld versions for the Nintendo DS and Sony PSP were also announced and showing all signs of being must-haves for TRON fans too. Propaganda Games, a DIS studio in Vancouver, Canada, was on-hand to discuss the Xbox 360 and PS3 versions and gave details on the multiplayer feature for the light cycle races which offers a seamless experience within the storytelling of the game -- a new experience for most. There are several options for TRON fans and what's more exciting is that they each tell the story of this great digital world from a time after the first film in 1982 up to TRON: Legacy.Read more about TRON Evolution Release Date...
June 14, 2010
New Trailer Sheds Light on Prequel. A new trailer for the TRON: Evolution game released for E3 in Los Angeles gave more insight into the immersive story of the Xbox 360, Playstation 3, and PC titles. With striking cinematics, gamers get a long-awaited look into the role they will play in the prequel story to the TRON: Legacy movie coming to theaters this Dec. 17. With Bruce Boxleitner narrating in the background, players learn that as a program, they must use their unique, coded abilities to overcome one of the greatest threats to the Grid. With extreme agility, reflexes, and combat skills, the player will unfold and advance the story which includes meeting Quorra, played by Olivia Wilde in the game and upcoming movie. The trailer, coupled with previews of the game at E3, has fans eagerly waiting for launch day this holiday season.Read more about TRON Evolution Release Date...
December 12, 2009
Evolution Appears on Spike Video Game Awards. In December 2009, the Spike Video Game Awards featured TRON: Evolution to resounding applause in the gamer-full theater. Between award presentations, the stage lights slowly rose to reveal the brilliance and elegance of a full-size light cycle model and Olivia Wilde, the equally alluring actress who plays Quorra in TRON: Legacy. To fans' delight, Olivia announced her involvement in, and excitement, about the upcoming game due out during the 2010 holiday season. Read more about TRON Evolution Release Date...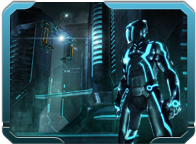 Gallery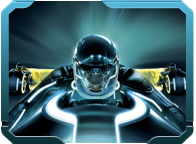 TRON: LEGACY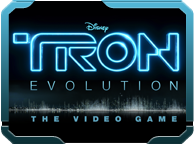 Tron Evolution